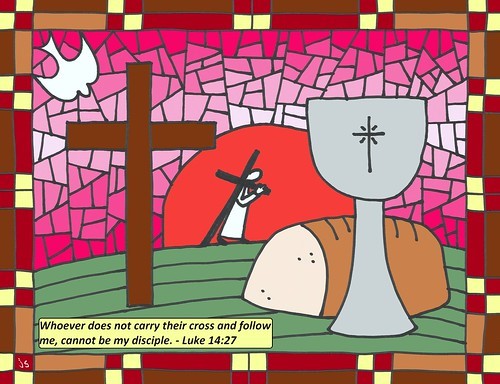 We gather for a Worship Service in-person at the Chapel (2700 W 14th Street) and via the Zoom platform (online and by phone) at 11:00 A.M.
To join us at the Chapel, buzz Zion Church (Bob Bucklew) from the Directory at the front of the 2700 Building on the campus of San Sofia Apartments or enter from the accessible ramp from the rear parking lot. When you arrive, call Bob at 216-375-5323 to open the parking lot gate.
Holy Communion is celebrated on the 1st Sunday of the month. In the Chapel we gather to share the elements in Christ's name – and the elements will be provided for you. For those at home, via Zoom, we encourage you to prepare your elements (a cup of tea, juice, or water and a cracker or muffin) in advance and share in remembrance of God's redeeming love during the invitation to do so.
ADMINISTRATIVE ASSISTANT, BEVERLY WURM!
Beverly began a part-time position… She will be keeping some limited Office Hours at church/home. The days and hours are:
Monday – 9am – 1pm
Wednesday – 11am – 4pm
Thursday – 9am – 1pm
Beverly can be reached at: [email protected] or by phone at: 216-273-7561 (church) or 216-310-6810 (mobile).
For the online link and phone info to join the worship service via Zoom, please scan down the e-mail below…
PLEASE NOTE: Because of the rise in COVID cases, we again request the wearing of a face mask regardless of vaccination and booster status while in the Chapel common areas.
The bulletin is attached. You may use it to follow along with us in the worship service or as a Devotional this week.
The Scripture Readings are:
FIRST READING: Jeremiah 18:1-11
God is warning the people through the prophet Jeremiah one more time that if they turn from their evil ways, they might prevent the disaster they have brought upon themselves. Using the image of the potter at the wheel, God can remake the people of Jerusalem and Judah. God can reshape them if they allow it. Otherwise, if the pottery is spoiled, it is of no use and must be smashed down, in order to be made into something new.
PSALM RESPONSE – Psalm 139:1-6, 13-18
Psalm 139 is often paired with readings from Jeremiah because the prophet, like the author of Psalm 139, was called by God before they were born. The psalmist poetically describes their relationship with God who knows them intimately. God discerns all their thoughts and feelings and there is no place they can go where God will not be, not even in death. This psalm is in the Wisdom tradition, a collection of writings throughout the scriptures that convey how impossible it is to know or understand God, yet the praise and awe of God is the beginning of understanding. The psalmist, in sharing their musings, comes to knowledge that they cannot possibly know everything, but they know God is with them.
SECOND READING: Philemon 1:1-21
The Epistle reading shifts to Philemon, the shortest book in the Bible and possibly the last letter Paul wrote. Paul wrote on behalf of Onesimus, enslaved in Philemon's household. Paul was sending Onesimus back to Philemon to carry this letter and encourage Philemon through the use of rhetoric to accept Onesimus as a member of the family, as he was a part of Christ's family. Of course Philemon, if he believes that Paul is a brother, would also welcome Onesimus as a brother since Paul has accepted him. Of course Philemon would love Onesimus because Paul is confident in Christ that Philemon will do the right thing. This use of rhetoric makes it impossible for Philemon to reject Paul's wishes and treat Onesimus as a slave unless he is willing to reject Christ. Paul's letter serves as an example to all believers that if they believe in Christ and that we are all part of the body of Christ, all children of God through Christ, then we cannot treat others any differently. We cannot hold the boundaries of slave or free, Jew or Gentile, male or female, or any other differentiation as a weapon of division against one another, because all are one in Christ Jesus (Galatians 3:28). We must speak boldly against oppression and injustice.
GOSPEL – Luke 14:25-33
The Gospel reading speaks about what holds us back from following Christ, and that sometimes division is necessary. Consistent with Paul, difference is not to be used as a weapon of division, but that division does happen when we choose Christ over the world. It's possible that family members had accused the disciples of hating them/turning their backs on them as they left their homes to follow Jesus. Choosing Jesus may mean choosing to follow Jesus over the expectations and desires of others. Jesus further states that those who do not carry the cross and follow him cannot be a disciple. They must be willing to put to death the hold this world has on them. Jesus then tells two short stories: the first begins with imagining that if you were to build a tower, you'd first sit down and figure out how much it costs before building, or otherwise you might run out of money and have an incomplete tower. The second is told more like a parable: a leader going off to war would discern whether they will win or lose by the strength of the armies. If a leader knows they will lose, they will attempt to make peace beforehand rather than lose it all. Jesus then concludes by saying no one can be his disciple if they are unwilling to give up their possessions. We must weigh the cost, and if we value the things of this world over Jesus, we cannot follow him. We cannot allow the things of this world that we have created to have a hold on us, and that includes the traditions and expectations of families to create and build wealth for inheritance. To give that up would amount to hatred/turning one's back on family in order to be Jesus's disciple.
The Sermon/ Reflection is "Costly Discipleship" by the Rev. Scott Rosenstein based on Luke 14: 25-33.
Our Worship Service is also available through the Zoom platform on Sunday, September 4th, 2022 at 11:00 A.M. (Eastern Time).
To join with a PC, Laptop, or Smart Phone (iphone or android), use the link below:
https://us02web.zoom.us/j/89618588823?pwd=MjljZXp5NWlTRkpYU0RtWEl4M296UT09
Passcode: 161662
or enter into your browser:
https://tinyurl.com/bdf39zs4
To join with a regular phone or landline phone, dial:
312-626-6799
Then follow the prompts and enter:
Meeting ID: 896 1858 8823 #
Password: 161662 #
If asked for a Personal ID, just dial #
Please join us to give thanks to God this Sunday, in-person in the Chapel, or via Zoom!
Pastor Scott
216.273.7561 – church (new phone number)
216.577.1514 (mobile)