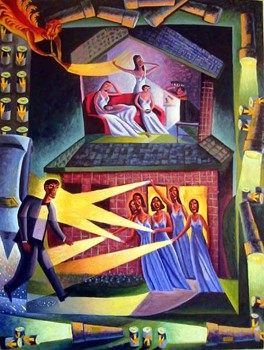 We gather for a Worship Service on this Sunday, November 12th, 2023 for A Service of the Word on the 24th Sunday after Pentecost in-person at the Chapel (2700 W. 14th Street) at 11:00 A.M.
To join us at the Chapel, buzz Zion Church (Bob Bucklew) from the Directory at the front of the 2700 Building on the campus of San Sofia apartments or enter from the accessible ramp from the rear parking lot. When you arrive, call Bob at 216-375-5323 to open the parking lot gate.
The Sunday Bulletin is attached in PDF format. You may use it as a devotional during the week.
Worship Services on Zoom
We are discontinuing streaming worship services on Zoom at this time. The option for Worship Services via the Zoom platform will resume in the Winter months and by request as needed.
Welcome to Adam D. Petrosino, Our New Music Director
Adam can be reached by e-mail at: [email protected] and by phone at 234-205-9397.
Zion's Administrative Assistant, Beverly Wurm
Beverly will be keeping some limited Office Hours at church/home. The days and hours are:
Fall Schedule
Tuesday – 9am – 1pm
Wednesday – 10am – 2pm
Thursday – 9am – 1pm
Beverly can be reached at: [email protected] or by phone at: 216-273-7561 (church) or 216-310-6810 (mobile).
This is the 3rd to last Sunday in the Church Year. Next Sunday, November 19th is Thanksgiving Sunday – and the following Sunday, November 26th is Reign of Christ Sunday, which concludes the present Year. The new Church Year begins in three weeks on Sunday, Dec. 3rd with the First Sunday of Advent.
Next Sunday (Nov. 19th) following worship, we'll join for Thanksgiving Sunday Lunch of a seasonal casserole, salad, green bean casserole, and dessert. Give thanks to God for God's many blessings in your life this year. Our thanks to Bob Bucklew for proposing and coordinating this holiday lunch!
Our new website address is: zionchurchtremont.org
Check out our website and Facebook for updates
The Focus Scripture Reading is Matthew 25:1-13
Gospel Reading: Matthew 25:1-13
Jesus returns to teaching parables in this final discourse before his betrayal. In the Parable of the Ten Bridesmaids, we often focus on the bridesmaids who were foolish and didn't bring enough oil, but the scripture teaches us that they all fell asleep. None of them were innocent; not one of them were completely faithful. While the surface level of this parable teaches that the wise were prepared for a longer wait for the return of the bridegroom while the foolish were not, when we dig deeper, we might ask why the wise didn't think they could share with the "foolish?" Why was their salvation more important? Perhaps the lesson could be that we are all called to share, and that we are responsible for living into the Gospel with our neighbors and not focusing on only ourselves.
Reflection/Sermon: "Don't Allow Your Fear or Sense of Inadequacy to Keep You Away from the Party" by the Rev. Scott Rosenstein inspired by the gospel reading in Matthew 25.
In Observance of Veterans' Day – A Prayer
God, we give you thanks today for our nation's veterans. We honor them for their faithful service to our country, and for what they have done to defend and preserve our freedom. Generation after generation, young men and women have answered our country's call. And as a result, their lives have been changed forever.
We are grateful to all who have served, whether in peacetime or in periods of conflict. But today we especially remember those who have been tempered by fire, those who continue to bear wounds of the body or the spirit as a result of what they endured. They lie in our veterans' hospitals or struggle for recovery in rehabilitation centers; they suffer from post-traumatic stress and survivor's guilt; they yearn for peace in their souls.
Dear God, we ask you to heal their wounds, to banish whatever inner demons may haunt them, and to give them peace within so they may return fully to their families and to society.
We thank you, God, for all of our country's veterans—those of past generations, and those who continue to earn this title today. May we never forget what our country has asked of them and what they have given in return. Help us to care enough to give them the respect and honor they are due. And strengthen our resolve to build a world modeled on your realm, where war will be pursued no more.
This we ask in the name of Jesus, the Prince of Peace. Amen.
Remember: Next Sunday, November 19th, we will celebrate Thanksgiving Sunday – with a lunch open to all following worship.
Please join the Zion Church community to give thanks to God this Sunday in-person in the Chapel!
Pastor Scott Rosenstein
216-273-7561 – church
216-577-1514 – mobile
Bulletin Cover Image:
The Wise and Foolish Bridesmaids
by James B. Janknegt (Texas)
posted Nov. 7, 2014 on the website of Global Christian Worship
https://globalworship.tumblr.com/post/102060199530/the-wise-and-foolish-bridesmaids-in-global-art