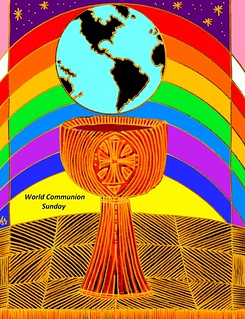 We gather for a Worship Service on this Sunday, October 1st, 2023, 18th Sunday after Pentecost for a Service of the Word and Holy Communion on World Communion Sunday in person at the Chapel (2700 W 14th Street) at 11:00 a.m.
World Communion Sunday
On the first Sunday in October, United Church of Christ congregations join many Christian churches across the globe in celebrating World Communion Sunday.
World Communion Sunday began as World-Wide Communion Sunday at Shadyside Presbyterian Church in Pittsburgh, Pennsylvania in 1933. The Rev. Hugh Thompson Kerr and his congregation sought to demonstrate the interconnectedness of Christian churches, regardless of denomination.
Rev. Kerr appropriately chose the sacrament of Holy Communion to symbolize this unity.
In 1940, the Federal Council of Churches of Christ in America, which included all of the predecessor denominations of the United Church of Christ, adopted World-Wide Communion Sunday. The global celebration occurs on the first Sunday in October.
Today, the United Church of Christ celebrates World Communion Sunday with congregations all over the globe. Followers of Jesus Christ in large churches and small, on farms and in cities, in ornate buildings and under tents, gather to receive the bread and cup of Holy Communion.
Some will receive cubes of bread. Some will tear from a common loaf. Some will receive a wafer.
Some will drink from a common chalice. Some will dip a piece of bread into the cup. Some will have individual glasses. Some will use wine; some juice. Some will offer both.
Pastors will lead a variety of liturgies, in many languages. Clergy will dress traditionally, formally, and casually.
Despite the differences in our denominations and traditions, we celebrate our unity in Jesus Christ, our Lord and Savior.
Worship Services on Zoom
We are discontinuing streaming worship services on Zoom at this time. The option for Worship Services via the Zoom platform will resume in the Winter months and by request as needed.
To join us at the Chapel, buzz Zion Church (Bob Bucklew) from the Directory at the front of the 2700 Building on the campus of San Sofia apartments or enter from the accessible ramp from the rear parking lot. When you arrive, call Bob at 216-375-5323 to open the parking lot gate.
The Sunday Bulletin is attached in PDF format. You may use it to follow along with the service or as a devotional during the week.
Welcome to Adam D. Petrosino, Our New Music Director
Adam can be reached by e-mail at: [email protected] or by phone at: 234-205-9397.
Zion's Administrative Assistant, Beverly Wurm
Beverly will be keeping some limited Office Hours at church/home. The days and hours are:
Fall Schedule:
Tuesday – 9am – 1pm
Wednesday – 10am – 2pm
Thursday – 9am – 1pm
Beverly can be reached at: [email protected] or by phone at: 216-273-7561 (church) or 216-310-6810 (mobile).
Our new website address is: zionchurchtremont.org
Check out our website and Facebook for updates
The Scripture Readings for Sunday, October 1st, 2023 are:
First Reading: Ezekiel 18: 1-4, 25-32
The reading from the Hebrew scriptures turns to the prophet Ezekiel. A troubling passage, the first four verses of Ezekiel 18 use a common saying among the people that Jeremiah 31:29-30 also questions, about parents eating sour grapes and children suffering for it. In short, the idea that children would suffer because of the sins of their parents is put to rest by these two prophets. Those who sin will be responsible for the repercussions of their actions. In Ezekiel's view, everyone has sinned, and everyone is responsible, not God, for the consequences of their actions. Verses 25-32 continue this discourse. The people say that God's ways are unfair, but they are the ones breaking from God's ways repeatedly. In God's view, the people's ways are unfair because they are still unjust and irresponsible—all of them. But if the people repent and turn back to God, they will find life. This is what God desires—that they find a new heart and new spirit. God does not desire destruction and death, but life.
Psalm Response: Psalm 25:1-9
Psalm 25 is an alphabet acrostic poem, with each verse beginning with the next letter of the Hebrew alphabet. Verses 1-9 is a plea to God to not allow their enemies to overtake them, and for God to make known God's ways. The psalmist desires for God to lead them because they want to follow God all their days. The author seeks forgiveness for the sins of their youth and to remember God's faithfulness and steadfast love. God is a good teacher, leading sinners in the right way, and teaches those who are humble in the ways of justice.
Second Reading: Philippians 2: 1-13
The Epistle reading continues its series in Philippians with these verses in chapter 2. A theme of the apostle Paul's letter to the church in Philippi is to be of the same mind and to have the same love. This doesn't mean one necessarily agrees with everything, but that they remember their purpose is to follow Jesus Christ. Verses 6-11 contain an ancient confession of Christ, the one who was equal to God but did not exploit his power, emptied himself and became humble to the point of death on the cross. Because of Christ's humility, we all ought to humble ourselves before the name of Jesus Christ, who has been exalted by God. Verses 12-13 contain encouragement for the people of Philippi to know Christ's salvation personally in their lives, because God is at work in each of them. The urging of unity comes with the understanding that each person has a relationship with Christ, and that in humility, we serve and worship Christ together.
Gospel Reading: Matthew 21:23-32
Jesus' authority is challenged in these verses of Matthew 21. Jesus doesn't come from a recognizable group, and so members of other first-century Jewish groups want to know who he is. Jesus, in turn, asks them a question about John the Baptizer's authority, knowing that the crowd would have strong opinions about it because they liked John. So when those who questioned Jesus refuse to respond, Jesus also refuses to respond directly. Instead, Jesus tells a parable about a landowner and their two children and who obeys God. Is it the one who said they would do something and failed to do it, or the one who refused but later changed their mind? A good question for us today is who really has the authority—the people who claim the moral high ground but don't think it applies to their own personal lives, judge others and treat others poorly, or those who know they struggle and are not perfect, but attempt to live into justice and compassion for all?
The Reflection/Sermon is: "A Wholly Integrated Life" by the Rev. Scott Rosenstein inspired by the gospel reading in Matthew 21. Our theme: Our faith is meant to be embodied. To be incarnate. To be organic. To be active. In the kingdom of God, words–even the most beautiful words–are not enough.
Please join the Zion Church community in-person in the Chapel this Sunday to give thanks to God!
Pastor Scott Rosenstein
216-273-7561 – church
216-577-1514 – mobile
Bulletin Cover Image:
World Communion Art
By Stushie
A Scottish Pastor, ministering in East Tennessee
Stushie Art-Church bulletin covers. Unique crayon, markers and digital worship art
https://stushieart.com