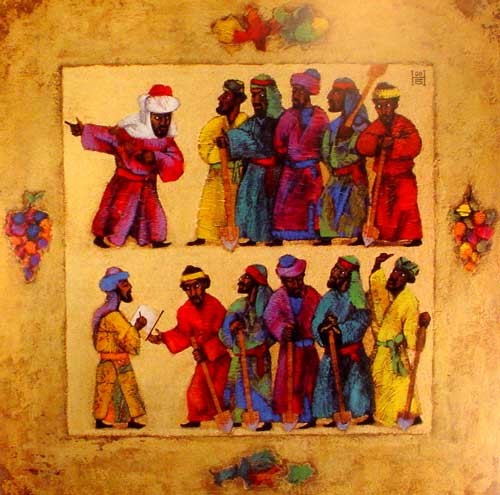 We gather for a Worship Service on this Sunday, September 24th, 2023, 17th Sunday after Pentecost in person at the Chapel (2700 W 14th Street) and via the Zoom platform (online and by phone) at 11:00 a.m.
To join us at the Chapel, buzz Zion Church (Bob Bucklew) from the Directory at the front of the 2700 Building on the campus of San Sofia apartments or enter from the accessible ramp from the rear parking lot. When you arrive, call Bob at 216-375-5323 to open the parking lot gate.
The Sunday Bulletin is attached in PDF format. You may use it to follow along with the service on Zoom or you may use it as a devotional during the week.
Welcome to Adam D. Petrosino
Adam, our New Music Director/Pianist, is a collaborative Music Director and Pianist with more than 20 years' professional experience performing, leading, and selecting musical hymns for regular, holiday, and special music for Sunday worship services. He most recently served as the Pianist (Transitional) at St. Mark's Lutheran Church, Talmadge, Ohio. He has previously served as a Music Director and Pianist, at churches in Akron and Mantua – including Trinity United Church of Christ, Akron, Ohio. Adam is pursuing a M.S.N., Nursing degree course through Herzing University, Minneapolis, which he expects to complete in April, 2025.
Adam also holds Bachelors' degrees in in Biology and Psychology as well as Masters' degrees in Business Administration and Public Health.
We are so pleased to welcome Adam, and his partner, Kiel to our community of faith here at Zion United Church of Christ of Tremont, Cleveland, Ohio. We're grateful to you sharing your presence, faith, and musical gifts with us.
Adam can be reached by e-mail at: [email protected] and by phone at: 234-205-9397.
Zion's Administrative Assistant, Beverly Wurm
Beverly will be keeping some limited Office Hours at church/home. The days and hours are:
New Schedule:
Tuesday – 9am – 1pm
Wednesday – 10am – 2pm
Thursday – 9am – 1pm
Beverly can be reached at: [email protected] or by phone at: 216-273-7561 (church) or 216-310-6810 (mobile).
Our new website address is: zionchurchtremont.org
Check out our website and Facebook for updates
The Scripture Readings for Sunday, September 24th, 2023 are:
First Reading: Jonah 3:10-4:11
The reading from the Hebrew scriptures is from the book of Jonah. The most successful prophet in all the Hebrew scriptures, Jonah is upset that God changed God's mind and did not destroy Nineveh, the capital of Israel's bitter enemy, the Assyrian empire – because the people of Nineveh repented and turned back to God. Jonah didn't want to go to Nineveh to begin with, and now that God brought him all the way here, God isn't even going to destroy the people for their disobedience. God is full of mercy and love, and Jonah is so upset about it that he'd rather die. God questions Jonah as to whether he has a right to be angry. God then causes a bush to grow and shade Jonah from the heat, but also appoints a worm to attack the bush so it died. Jonah again wanted to die because of the heat, and because the bush died. The final words of this story are from God: God challenges Jonah's right to be angry over the bush as a metaphor for being angry at what happened in Nineveh. God's concern is for creation and for all the people; Jonah's inconvenience at being called to Nineveh is like his inconvenience with the bush dying. Jonah has no control over those things. Jonah, however, can control his own actions and reactions. Jonah is feeling his big feelings and missing the whole picture, of an entire community, including all the animals, saved from destruction.
Psalm Response: Psalm 145:1-8
These verses in Psalm 145 are the first part of an alphabetic acrostic poem in Hebrew, in which each verse begins with the next letter of the Hebrew alphabet. In these first eight verses, the psalmist blesses and praises God, declaring God's greatness from generation to generation, and concludes this section with an ancient confession in verse 8, repeated in Jonah 4 and from Exodus 34:6: God is gracious and merciful, slow to anger and abounding in steadfast love.
Second Reading: Philippians 1:21-30
The Epistle readings (Christian letters) begin a four-week series in the book of Philippians with these verses in chapter 1. The apostle Paul begins this section of his letter with an acknowledgement that he lives for Christ, but that in death he will gain the resurrection. Paul desires to be with Christ in resurrection, but he knows that it is necessary for him to live now and continue to witness, especially to the church in Philippi (a city in northeastern Greece) . Paul encourages this church, though he is in prison, to continue to live their lives in a manner worthy of Christ. Paul knows their struggles and sufferings living in the Roman Empire as believers in Christ.
Gospel Reading: Matthew 20:1-16
This reading in Matthew 20 contains a parable of Jesus about a landowner who went out and hired workers to work in his vineyard throughout the day. At the end of the day, he paid those who only worked one hour just as much as those who had worked all day. Parables always have layers. On the surface, the lesson is that life is not fair, and those who come to believe late in life are as worthy as those who have believed their whole life. The justice concern is that all receive a daily wage to meet their daily needs. One of the workers who worked all day complains that those who only worked one hour were made equal. The landowner in turn reminds the worker that he is allowed to do what he wants with what belongs to him, and questions if the worker is jealous of his generosity. Perhaps a deeper level of the parable is to explore what it means to be generous, or what it means to understand there is enough for everyone. The systems of the world work to pit workers against each other, but God shows us there is enough for everyone.
The Sermon/Reflection: "The Scandalous Goodness of God" by the Rev. Scott Rosenstein based on the lectionary readings of Jonah 3:10 – 4:11 and Matthew 20:1-16.
Please join us to give thanks to God this Sunday–and come welcome our new Music Director/Pianist, Adam Petrosino–in-person in the Chapel or via Zoom!
Pastor Scott Rosenstein
216-273-7561 – church
216-577-1514 – mobile
Bulletin Cover Image:
The Workers in the Vineyard
by Kazakhstan artist Nelly Bube
http://pericope.org/buls-notes/images/workers_in_vineyard.jpg