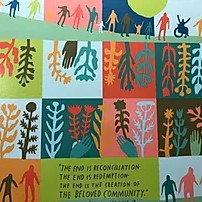 We gather for a Worship Service on this Sunday, September 10th, 2023, 15th Sunday after Pentecost in person at the Chapel (2700 W 14th Street) and via the Zoom platform (online and by phone) at 11:00 a.m.
Come meet our new Minister of Music/Pianist, Adam Petrosino. Welcome, Adam!
Adam is a collaborative Music Director and Pianist with more than 20 years' experience performing, leading, and selecting musical hymns for regular, holiday, and special music for Sunday worship services. Come and meet Adam following the worship service over coffee, tea, and dessert!
To join us at the Chapel, buzz Zion Church (Bob Bucklew) from the Directory at the front of the 2700 Building on the campus of San Sofia apartments or enter from the accessible ramp from the rear parking lot. When you arrive, call Bob at 216-375-5323 to open the parking lot gate.
The Sunday Bulletin is attached in PDF format. You may use it to follow along with the service on Zoom or you may use it as a devotional during the week.
Zion's Administrative Assistant, Beverly Wurm
Beverly will be keeping some limited Office Hours at church/home. The days and hours are:
Monday – 9am – 1pm
Wednesday – 10am – 2pm
Thursday – 9am – 1pm
Beverly can be reached at: [email protected] or by phone at: 216-273-7561 (church) or 216-310-6810 (mobile).
Our new website address is: zionchurchtremont.org
Check out our website and Facebook for updates
The Scripture Readings for Sunday, September 10th, 2023 are:
First Reading: Ezekiel 33:7-11
The selection from the Hebrew scriptures turns to the prophet Ezekiel. The prophet has been called to speak on behalf of God as a sentinel, a watchman, to warn the people to turn from evil ways. If the prophet does not warn the people, God's judgment is on the prophet's hands, but if the prophet does warn them and they don't listen, at least the prophet will have saved his life while others will perish. But the truth is God does not enjoy the punishment of those who do evil—-it is rather the consequences of their own actions. God would rather that those who do evil would turn back to God's ways and live.
Psalm Response: Psalm 119: 33-40
These verses in Psalm 119 are part of an alphabetic acrostic poem. This section is a prayer to God to help the psalmist turn back to God's ways. They desire to learn from God and gain understanding of the commandments and decrees. They long to turn their heart and mind to God's ways, and away from the fleeting pleasures of the world. They call upon God to confirm God's promises, and to find life in living into righteousness.
Second Reading: Romans 13: 8-14
The Epistle lessons continue in Romans 13. In this section, the apostle Paul turns to the Christian life and how to live as part of the greater community—for the Roman church, that meant among the rest of the Jewish community for gentile believers. They are to follow the commandments, especially loving their neighbor as themselves. Paul writes that the fulfilment of Christ's promises is coming but has not yet arrived. They are called to live as children of God and not to go back to their old ways and pagan practices. Instead, they are to live in community with one another and remain faithful to Christ.
Gospel Reading: Matthew 18: 15-20
These verses in Matthew 18 contain Jesus' instructions to the disciples about how to deal with wrongdoing in the church, and how to start with the person who has offended you before going to others. This passage is followed by Peter's question about forgiveness, and it is important to remember that these are bound together. When Jesus says that the one who refuses to listen to the church should be treated like a gentile and tax collector, it doesn't necessarily mean they are to be kicked out. It means they are to be treated as those who do not understand. Boundaries are important, and forgiveness is an ongoing process. Sometimes people must be asked to leave, or victims may be harmed. Sometimes forgiveness is not possible. Instead, we must hold these passages in tension, knowing at times forgiveness is not the same as restoration to the community, and at times we have to live with the people we are in conflict with.
The Sermon/Reflection is "The Principles of Love and Respect" by the Rev. Scott Rosenstein based on the Gospel Reading of Matthew 18:15-20
Please join the Zion Church community to give thanks to God this Sunday, in-person in the Chapel, or via Zoom!
Pastor Scott Rosenstein
216-273-7561 – church
216-577-1514 – mobile
Bulletin Cover Image:
Compassion Through Action: Becoming Beloved Community
Beloved Community Interfaith Mural–designed by Cincinnati artist Lizzy DuQuette and painted by nearly 100 attendees of the 2nd Annual Cincinnati Festival of Faiths on September 9, 2019
Posted on the website of the Episcopal Church of the Redeemer, Cincinnati, Ohio
https://www.redeemer-cincy.org/blog/beloved-community-interfaith-mural/