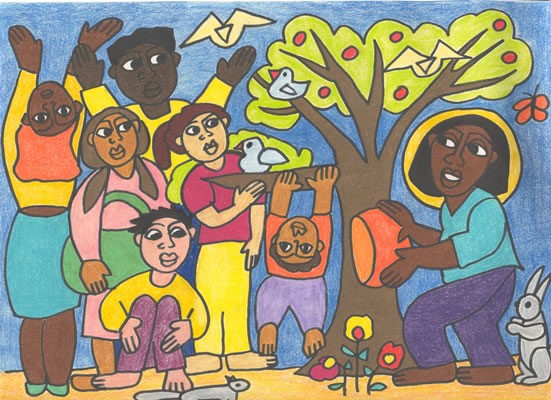 We gather for a Worship Service on this Sunday, July 30th, 2023, 9th Sunday after Pentecost in person at the Chapel (2700 W 14th Street) and via the Zoom platform (online and by phone) at 11:00 a.m.
To join us at the Chapel, buzz Zion Church (Bob Bucklew) from the Directory at the front of the 2700 Building on the campus of San Sofia apartments or enter from the accessible ramp from the rear parking lot. When you arrive, call Bob at 216-375-5323 to open the parking lot gate.
The Sunday Bulletin is attached in PDF format. You may use it to follow along with the service on Zoom or you may use it as a devotional during the week.
Zion's Administrative Assistant, Beverly Wurm
Beverly will be keeping some limited Office Hours at church/home. The days and hours are:
Monday – 9am – 1pm
Wednesday – 10am – 2pm
Thursday – 9am – 1pm
Beverly can be reached at: [email protected] or by phone at: 216-273-7561 (church) or 216-310-6810 (mobile).
Our new website address is: zionchurchtremont.org
Check out our website and Facebook for updates
The Scripture Readings for Sunday, July 30th, 2023 are:
First Reading: 1 Kings 3:5-12
In this reading from the Hebrew Scriptures, King Solomon has a dream in which God asks him what it is he wants. God promises to grant Solomon whatever his request is. Solomon seeks wisdom, and God is delighted that what Solomon desires is to live into God's ways, to be wise in discernment with his authority, power, and privilege, and God promises Solomon that he will be granted wisdom like no one else.
Psalm Response: Psalm 119:129-136
Psalm 119 is a long acrostic poem with each stanza starting with the next letter of the Hebrew alphabet. In vs. 129-136, the psalmist praises God for the law and commandments, all of God's teaching. The psalmist seeks to live into God's ways and prays for God to draw close. The singer seeks freedom from human oppression, so they may keep to God's teachings. This section concludes with the psalmist mourning how God's ways are not kept by all.
Second Reading: Romans 8: 26-39
The Epistle reading continues its series in the Apostle Paul's letter to the Roman Christians, with these verses in Romans 8. The Jewish and Gentile Christian communities in Rome were at odds with each other after the Jewish population returned during Nero's time, and the Gentile believers didn't quite understand how to fit in with their Jewish neighbors, whether they were believers in Jesus, or not. There were struggles, even suffering, during that time, but the Spirit is the one who brings aid and comfort and intercedes when things seem impossible. "We know that God makes everything work together for the good of those who love God." God has continually been working to bring all of God's children together, no matter their background, no matter what struggles or suffering they have been through. There is nothing they have done and nothing anyone else could do that could separate themselves from the love of God in Christ Jesus.
Gospel Reading: Matthew 13: 31-33, 44-52
Jesus continues to teach in parables in the selections from Matthew 13. These are a series of very short parables of what the kingdom of heaven is like. The first two—the mustard seed sown deliberately in a field, becoming a home for birds, and the yeast mixed in with large amounts of flour—both of these show how God's reign is subversive and unstoppable. The treasure hidden in a field and the great pearl show that the reign of God is worth sacrificing everything else for. The last parable in vs. 47-50 is a bit longer and parallels the last parable Jesus tells in Matthew, in 25:31-46, separating out the good and bad fish. Vs. 51-52 contain one final parable in this section, after Jesus questions the disciples whether they have understood his teachings. In this parable, Jesus looks at the scribes (religious scholars) who study the law: if they have trained for the kingdom of heaven, they are like the head of a household who brings out of their treasure what is new and what is old. Both old and new are valued, but the wise ones know how to treasure both.
The Sermon/Reflection: "The Kingdom of Heaven in Our Part of God's Vineyard is Like…" by the Rev. Scott Rosenstein – inspired by the lectionary Scripture readings of Matthew 13 and Romans 8.
Please join the Zion Church community to give thanks to God this Sunday, in-person in the Chapel, or via Zoom!
Pastor Scott Rosenstein
216-273-7561 – church
216-577-1514 – mobile
Bulletin Cover Image:
The Tree from a Mustard Seed
by Anne Brink (2007)
https://annecbrink.com/galleries/visiblekingdom/Mark/index.html