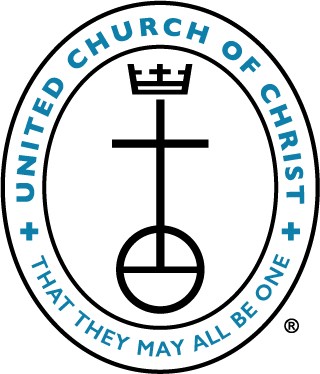 We gather for a Worship Service on this Sunday, June 25th, 2023, in person at the Chapel (2700 W 14th Street) and via the Zoom platform (online and by phone) at 11:00 A.M.
To join us at the Chapel, buzz Zion Church (Bob Bucklew) from the Directory at the front of the 2700 Building on the campus of San Sofia apartments or enter from the accessible ramp from the rear parking lot. When you arrive, call Bob at 216-375-5323 to open the parking lot gate.
The Sunday Bulletin is attached in PDF format. You may use it to follow along with the service on Zoom or you may use it as a devotional during the week.
June 25, 2023 – National Anniversary of the Founding of the United Church of Christ (1957-2023)
The United Church of Christ, a united and uniting church, was born on June 25, 1957 (in Cleveland, Ohio) out of a combination of four groups. Two of these were the Congregational Churches of the English Reformation with Puritan New England roots in America, and the Christian Church with American frontier beginnings. These two denominations were concerned for freedom of religious expression and local autonomy and united on June 17, 1931 to become the Congregational Christian Churches.
The other two denominations were the Evangelical Synod of North America, a 19th-century German-American church of the frontier Mississippi Valley, and the Reformed Church in the United States, initially composed of early 18th-century churches in Pennsylvania and neighboring colonies, unified in a Coetus in 1793 to become a Synod. The parent churches were of German and Swiss heritage, conscientious carriers of the Reformed and Lutheran traditions of the Reformation, and united to form the Evangelical and Reformed Church on June 26, 1934 (merger ceremony at Zion Church, Cleveland, Ohio).
The Evangelical and Reformed Church and the Congregational Christian Churches shared a strong commitment under Christ to the freedom of religious expression. They combined strong European ties, early colonial roots, and the vitality of the American frontier church. Their union forced accommodation between congregational and presbyterial forms of church government. Both denominations found their authority in the Bible and were more concerned with what unites Christians than with what divides them. In their marriage, a church that valued the free congregational tradition was strengthened by one that remained faithful to the liturgical tradition of Reformed church worship and to catechetical teaching. A tradition that maintained important aspects of European Protestantism was broadened by one that, in mutual covenant with Christ, embraced diversity and freedom.
From A Short Course on the History of the United Church of Christ – website of the United Church of Christ: https://www.ucc.org/who-we-are/about/history/
Vacation Closure
Zion Church will be closed for vacation for the Independence Day holiday from July 1 through July 9, 2023.
Pastor Scott Rosenstein will be on summer vacation in the Pennsylvania woods.
Should you require any Pastoral Care during the Pastor's absence, please contact Administrative Assistant, Beverly Wurm, at 216-310-6810 or the Rev. Brooke Baker, Senior Pastor of Church of the Redeemer UCC at 216.401.0534 (cell).
Pastor Scott Rosenstein can be reached following vacation beginning July 10th at 216.577.1514 (cell)
Worship Services will resume at Zion Church on Sunday, July 16th at 11am – in-person at the Chapel and on Zoom – A Service of the Word and Holy Communion.
Have a safe and enjoyable July 4th Independence Day holiday! Happy 247th Birthday, USA!
Zion's Administrative Assistant, Beverly Wurm
Beverly will be keeping some limited Office Hours at church/home. The days and hours are:
Monday – 9am – 1pm
Wednesday – 10am – 2pm
Thursday – 9am – 1pm
Beverly can be reached at: [email protected] or by phone at: 216-273-7561 (church) or 216-310-6810 (mobile).
Our new website address is: zionchurchtremont.org
Check out our website and Facebook for updates
The Scripture Readings for Sunday, June 25th, 2023 are:
First Reading: Jeremiah 20:7-13
Ever wondered how hard it was to be a prophet? In these verses of Jeremiah 20, Jeremiah complains that God has enticed him to speak up and look what he gets for it? Nothing but trouble. Jeremiah feels he must declare violence and destruction to the people, but he hates doing it. If he tries not to speak on behalf of God, the fire inside of him burns and he can't keep it in. Everyone else is waiting for him to screw up so they can pounce on him, even his close friends. Nonetheless, Jeremiah knows that God is with him and those persecuting him will not prevail. God is the one who will deliver him. Content Warning: the English translations of this passage are tamer than the Hebrew, which uses the language of rape to describe Jeremiah being compelled to prophecy by God and that same language of his friends working against him.
Psalm Response: Psalm 69:7-18
Psalm 69 is a prayer for deliverance from persecution. In verses 7-10, the psalmist reminds God that it is for God's sake they have been shamed, that their family has disowned them, for the psalmist is being blamed for what God has called them to do and insulted for being humble. In verses 11-15, the psalmist continues to share that they are ridiculed and gossiped about, but they pray to God because they trust that God will deliver them from their enemies. They call upon God to not let them die. In verses 16-18, the psalmist turns to God, calling upon God to answer them in according to God's mercy, and calls upon God to draw near to them and set them free from their enemies.
Second Reading: Romans 6:1b-11
The Epistle reading continues in Romans with chapter 6. The apostle Paul uses rhetoric here to say that even though it is faith that saves instead of the law, believers are not to continue in sin. Through Christ, we have died to sin and have been raised to life. Knowing that we are united in a resurrection like Christ's, we are called to live as alive in Christ. Sin has no power over us, but if we know Jesus Christ, we live in the newness of life. Sin holds us back; Christ sets us free.
Gospel Reading: Matthew 10:24-39
Continuing from last week's gospel lesson, Jesus is giving the disciples further instructions before they head out in ministry. Jesus reminds the disciples that they are not above the teacher, but a disciple ought to be like the teacher. Nonetheless, Jesus also warns them that the insults thrown at him (such as calling him Beelzebul) will be even greater toward them. Jesus then instructs them to not be afraid and to share everything he has taught them, and that they are precious to God. If they are faithful to Christ, Christ will be with them, but whoever denies Christ, Christ will deny them before God. Jesus further warns the disciples that his teachings will bring division, not peace. Just as Jesus's own family at first tried to stop him, so will some of the disciples' families and friends. Those who follow Jesus must be willing to let go of everything, even families, if they hold them back from following Christ. Those who are willing to give up everything for Christ's sake will find everything of purpose and meaning is in Christ.
The Sermon/Reflection: "Jesus, Disturber of the Peace" by the Rev. Scott Rosenstein is based on Sunday's lectionary Scripture readings.
Please join the Zion Church community to give thanks to God this Sunday, in-person in the Chapel, or via Zoom!
Pastor Scott Rosenstein
216-273-7561 – church
216-577-1514 – mobile
Bulletin Cover Image:
UCC Logo