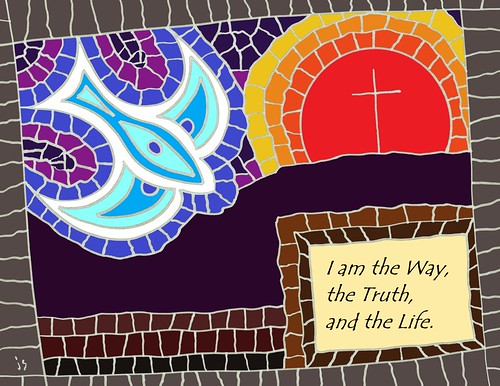 We gather for a Worship Service this Sunday, May 7th, 2023, in person at the Chapel (2700 W 14th Street) and via the Zoom platform (online and by phone) at 11:00 A.M.
To join us at the Chapel, buzz Zion Church (Bob Bucklew) from the Directory at the front of the 2700 Building on the campus of San Sofia apartments or enter from the accessible ramp from the rear parking lot. When you arrive, call Bob at 216-375-5323 to open the parking lot gate.
The Sunday Bulletin is attached in PDF format. You may use it to follow along with the service on Zoom or you may use it as a devotional during the week.
CELEBRATION OF HOLY COMMUNION – MAY 7, 2023
How precious this sacred but ordinary meal is in the lives of each congregation and of each individual. We are so grateful that, while many churches, such as Zion Church, have returned to Holy Communion in sanctuaries, most of us have members who are cautious or ill, recovering from surgery or medical procedures, or unwilling to drive in inclement weather, whose Communion is as much a part of our sacred meal as those who have come to the Chapel.
If you are communing at the Chapel, the elements of bread and wine/juice will be provided for you. We invite those at home to prepare the elements in advance of the service. Even an English muffin or a slice of toast can become a sacrament, even a cup of water, tea, or coffee can become a remembrance of God's redeeming love).
Zion's Administrative Assistant, Beverly Wurm
Beverly will be keeping some limited Office Hours at church/home. The days and hours are:
Monday – 9am – 1pm
Wednesday – 10am – 2pm
Thursday – 9am – 1pm
Beverly can be reached at: [email protected] or by phone at: 216-273-7561 (church) or 216-310-6810 (mobile).
Our new website address is: zionchurchtremont.org
Check out our website and Facebook for updates.
The Scripture Readings for Sunday, May 7th, 2023 are:
First Reading: Act 7:55-60
On this Fifth Sunday of Easter, the Revised Common Lectionary continues its series of the first reading from Acts, this time of Stephen's martyrdom in 7:55-60. Stephen, after his arrest, responded to the charges by sharing how God had delivered the people throughout history and sent prophets to them, but the people of God had rejected God's prophets and had not kept God's commandments. The council was enraged against Stephen, but it was when Stephen beheld a vision of Jesus at the right hand of God and proclaimed it to them, the council rushed him out of the city, refusing to listen to him (they covered their ears), and stoned him. Stephen prayed for Jesus to receive his spirit, and that the Lord wouldn't hold this sin against the crowd, right before he died at their hands.
Psalm Response: Psalm 31:1-5, 15-16
Psalm 31:1-5, 15-16 is a prayer of help and trust in God. The psalmist calls upon God to rescue and deliver them, but also prays for God to grant them strength and salvation. They know God is the one who protects them, and the psalmist commits their spirit to God, knowing that whatever happens, God is with them. In verses 15-16, the psalmist puts their trust in God, praying for God to deliver them from their enemies, that they might be saved in God's steadfast love.
Second Reading: 1 Peter 2:2-10
The Epistle readings continue in 1 Peter, backing up to 2:2-10 (before last week's reading). The writer uses the metaphor of spiritual milk, as Paul did in 1 Corinthians 3:2, but this time it is a positive metaphor: for new believers, they need to desire what will nourish and satisfy so they can grow in faith. Quoting Psalm 34:8, the writer calls upon the faithful to "taste and see that the Lord is good." The writer then switches metaphors to that of a living stone. Quoting Psalm 118:22, they are the stone rejected by the world. Jesus also quoted this scripture in referring to himself, but now the writer uses it for the believers, now chosen by God to be the foundation of the church in their day. These believers, mostly Gentile, now have an identity in Christ as a people, the temple of God here on earth.
Gospel Reading: John 14:1-14
This reading contains the beginning of Jesus's final discourse to the disciples before his arrest and death. Jesus shares how he is going ahead of the disciples to prepare a place for them, but the disciples are still thinking physically rather than spiritually, and they do not understand what he is talking about. Jesus, speaking directly to the disciples in response to Thomas's question about knowing the way, explains that for them, he is the way, the truth, and the life—there is no other way to know God. Philip then tells Jesus if he just shows them Abba God, that would be enough. Jesus replies with, "Don't you know me?" Jesus has shown them that he and Abba God are one. Jesus calls on them to believe in him, to know that he is going to Abba God but that Jesus will answer their prayers, so that Abba God's glory will be made known. While we may want to move away from gendered language for God, Jesus uses the term Abba (Aramaic: father) to show the intimate relationship Jesus has with God, as God's beloved One. The disciples have not understood the Messiah in this way before, as being the Son of God.
The Sermon/Reflection: "Real Questions – An Offer of Comfort" by The Rev. Scott Rosenstein.
Please join the Zion Church community to give thanks to God this Sunday, May 7th in-person in the Chapel, or via Zoom!
In Christ,
Pastor Scott Rosenstein
216-273-7561 – church
216-577-1514 – mobile
Bulletin Cover Image:
Easter 5-A- Way, Truth, Life
Crayon and digital worship art
By Stushie
A Scottish pastor, ministering in East Tennessee
Stushie Art. Stushieart.com