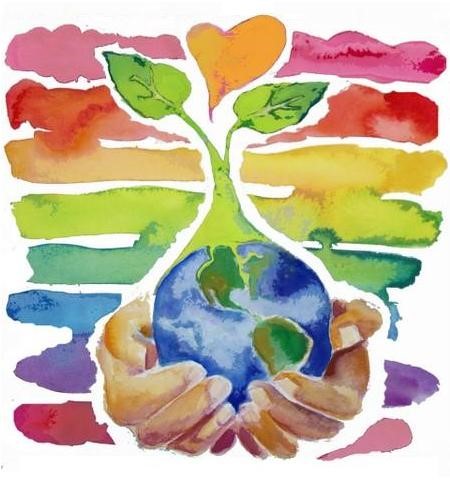 We gather for a Worship Service on this April 23rd, 2023 – the Third Sunday of Easter/Earth Sunday and Creation Care Sunday – in person at the Chapel (2700 W 14th Street) and via the Zoom platform (online and by phone) at 11:00 A.M.
To join us at the Chapel, buzz Zion Church (Bob Bucklew) from the Directory at the front of the 2700 Building on the campus of San Sofia apartments or enter from the accessible ramp from the rear parking lot. When you arrive, call Bob at 216-375-5323 to open the parking lot gate.
EARTH SUNDAY – CREATION CARE SUNDAY – April 23rd, 2023
The annual observance of Earth Day is April 22 – an occasion to affirm our relationship with God's creation, and our responsibility to care for the earth and its natural resources. Many congregations designate the Sunday closest to Earth Day as Earth Day Sunday. Bringing intentional focus to these themes can awaken our congregation to the Christian call to steward God's creation. This date is an occasion for special worship, education, and advocacy focused on the environment. It is an opportunity to reflect on the goodness of God's creation and the human responsibility and Christian call to steward it through worship, education and action.
The Sunday Bulletin is attached in PDF format. You may use it to follow along with the service on Zoom or you may use it as a devotional during the week.
Zion's Administrative Assistant, Beverly Wurm
Beverly will be keeping some limited Office Hours at church/home. The days and hours are:
Monday – 9am – 1pm
Wednesday – 10am – 2pm
Thursday – 9am – 1pm
Beverly can be reached at: [email protected] or by phone at: 216-273-7561 (church) or 216-310-6810 (mobile).
Our new website address is: zionchurchtremont.org
Check out our website and Facebook for updates
The Scripture Readings for Sunday, April 23rd 2023 are:
First Reading: Act 2:14a, 36-41
The first reading of the Revised Common Lectionary concludes Peter's declaration on the Day of Pentecost with these verses of Acts 2. In this portion, Peter states that God made Jesus Lord and Messiah, whose crucifixion all of Jerusalem witnessed and knew about. Those gathered asked Peter and the other apostles, "Brothers, what shall we do?" Using the term "brothers" indicates that they honored and recognized Peter and the disciples and were convinced by their message. Peter called upon them to repent and be baptized so they might receive the gift of the Holy Spirit. Peter assured them the promise was for everyone who believed, and on that day about three thousand persons were added to the followers of Jesus.
Psalm Response: Psalm 116: 1-4, 12-19
Psalm 116:1-4, 12-19 is a song of thanksgiving for God's deliverance. The psalmist was near death, but God saved them, and they love God because God has heard their pleas. The psalmist asks what they can give back to God for all God has done for them? They can fulfill their promises and keep all their vows, call upon God's name and serve God faithfully, as their own mother served God. They know God is the one who brings liberation. The psalmist will offer sacrifices of thanksgiving, upholding their promises to God before the congregation in the temple.
Second Reading: 1 Peter 1:17-23
The Epistle reading continues the series in this Easter season in 1 Peter. In these verses of chapter 1, the author writes of the believers with the metaphor of exile, one the Jewish followers of Jesus certainly knew from their own scriptures and history, but one in which all the followers of Jesus could understand. They were not part of Judaism anymore and were certainly not part of the empirical religion. They were waiting for the fulfillment of Christ's reign to come, and the author uses another metaphor of ransom, that through the blood of Jesus's sacrifice they now belong to God. They are no longer part of the old pagan ways of their parents and ancestors but are part of the beloved family of Christ. Through Jesus, they have come to trust God who gave his only Son for them, and in obedience to God's love, they also love one another, for they need each other as ones set apart, ones living in a sort of exile from the world around them.
Gospel Reading: Luke 24:13-35
These verses of Luke 24 contain the story of Jesus's resurrection appearance to two of Jesus' followers on the road to Emmaus. Cleopas and another unnamed follower of Jesus were perplexed because some of the women who traveled with the followers of Jesus found the tomb empty, and claimed to have received a message from angels that Christ had risen. They come across another traveler on the road to Emmaus away from Jerusalem and tell this traveler all they experienced. This traveler, in turn, explained the Scriptures to them, and how they explained the Messiah and that these things must take place. Cleopas and the other urge the traveler to stay with them, and it was as they sat down to the table and the stranger took bread, broke it and blessed it before them that they finally recognized it was Jesus. He vanished from their sight. Cleopas and the other disciple returned to Jerusalem quickly, to share their experience of the risen Christ, who had also appeared to Simon Peter at this point, and how Jesus had been made known to them in the breaking of the bread.
The Sermon/Reflection is "We Were Hoping" by the Rev. Scott Rosenstein inspired by Luke 24:13-35.
Please join the Zion Church community to give thanks to God this Sunday, April 23rd in-person in the Chapel, or via Zoom!
Pastor Scott Rosenstein
216-273-7561 – church
216-577-1514 – mobile
Bulletin Cover Image:
"Creation Care"
art by Dana Gray
"Loving Our Neighbor Means Caring for God's Creation"
Grace Rules Weblog
https://gracerules.wordpress.com/2013/09/18/ creation/