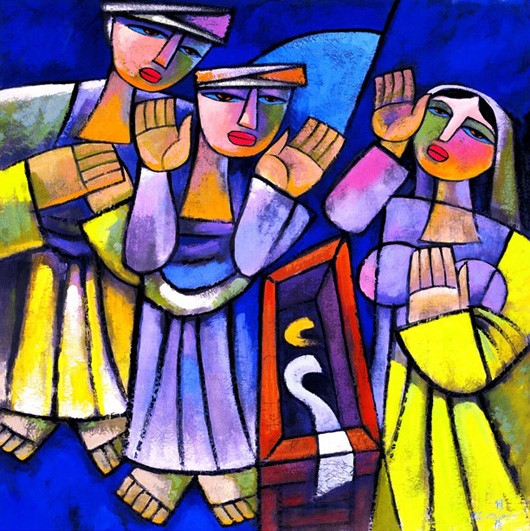 We gather for a Worship Service on this Easter Sunday, April 9th, 2023, in person at the Chapel (2700 W 14th Street) and via the Zoom platform (online and by phone) at 11:00 A.M.
To join us at the Chapel, buzz Zion Church (Bob Bucklew) from the Directory at the front of the 2700 Building on the campus of San Sofia apartments or enter from the accessible ramp from the rear parking lot. When you arrive, call Bob at 216-375-5323 to open the parking lot gate.
The Sunday Bulletin is attached in PDF format. You may use it to follow along with the service on Zoom or you may use it as a devotional during the week.
An Easter Brunch follows worship on Sunday, April 9th. You may bring a dish to share (optional) – but join us for a meal of celebration and community!
Zion's Administrative Assistant, Beverly Wurm
Beverly will be keeping some limited Office Hours at church/home. The days and hours are:
Monday – 9am – 1pm
Wednesday – 10am – 2pm
Thursday – 9am – 1pm
Beverly can be reached at: [email protected] or by phone at: 216-273-7561 (church) or 216-310-6810 (mobile).
Our new website address is: zionchurchtremont.org
Check out our website and Facebook for updates
The Scripture Readings for Easter Sunday, April 9th, 2023 are:
First Reading: Act 10:34-43
For the season of Easter, often a reading from Acts is used instead of the Hebrew scriptures. The first selection from Acts 10 contains Peter's bold revelation from both a vision he beheld from God in vs. 9-16 and in his encounter with the Roman centurion Cornelius in 17-33. In the vision, God gave Peter food to eat that was both from clean and unclean animals, with the lesson that whatever God declared holy, others must not call profane. In Peter's conversation with Cornelius, a Gentile, Peter understood that Cornelius's own encounter with the Holy Spirit was valid and true. There was no need for Cornelius to become Jewish, he knew God through Jesus Christ and the Holy Spirit. God shows no partiality between Jewish and Gentile, for Jesus is Lord of all. Peter and the other disciples were witnesses of Jesus's life, death, and resurrection, and called to testify in his name. Peter confirmed that everyone who believes in Jesus may be forgiven of their sins through Christ's name.
Psalm Response: Psalm 118:1-2, 14-24
Portions of Psalm 118 are read for both Palm Sunday and on Easter, with some overlap. The portion for Easter includes the declaration that God is the psalmist's strength, might, and salvation. Death will not have a hold on the people, for they will live with God as their God. Though the people of Israel have suffered, God did not allow them to die out, but instead, they have returned to worship as the psalmist calls them into the temple. The people rejected are now the foundation of the knowledge of God around the world, for God has chosen the people of Israel to demonstrate God's glory and salvation to all.
Second Reading: Colossians 3:1-4
Colossians 3:1-4 speaks of the life of the Christian with the resurrected Christ. Believers always have a heavenly worldview. Christ has been revealed to the world, and therefore our lives are testimony to Christ's resurrection. We have already been raised from death as we walk this earth, for death has no hold on us.
Gospel Reading: John 20:1-18
In John's account of the resurrection, it was still dark on the first day of the week and Mary Magdalene was by herself when she came to the tomb and discovered the stone had been rolled back. Mary went to tell Peter and the beloved disciple, who then raced to the empty tomb. Though Peter went in first, the beloved disciple went in after, and he saw and believed. Nevertheless, both he and Peter went home because they did not understand the scripture. Only Mary remained, weeping. She looked into the tomb and saw two angels. They asked her why she was weeping, because Mary thought someone had taken Jesus's body. When she turned around, she thought she saw the gardener, who asked her the same question. She asked if he had taken the body to tell her where he had put it, so she could take care of the body. She kept asking questions. But then the gardener said her name, and she immediately recognized her teacher. Jesus warned her not to hold on to him, but instead to go and tell the disciples that he had risen and would be ascending to Abba God. Mary then announced to the disciples that she had seen the Teacher and what he had spoken to her. Mary is known as the Apostle to the Apostles because she remained faithful and kept asking where Jesus was, when the other disciples went home, and even the beloved disciple who believed. A good teacher has students who ask good questions. And nevertheless, Mary persisted.
The Sermon/Reflection: "Have You Encountered the Risen Christ?" by The Rev. Scott Rosenstein inspired by John 20:1-18
Please join the Zion Church community to give thanks to God this Easter Sunday, in-person in the Chapel, or via Zoom!
Pastor Scott Rosenstein
216-273-7561 – church
216-577-1514 – mobile
Bulletin Cover Image:
The Empty Tomb
by artist, He Qi – He Qi Art
https://www.heqiart.com/3-crucifixion–resurrection.html
He Qi © 2021 All rights Reserved