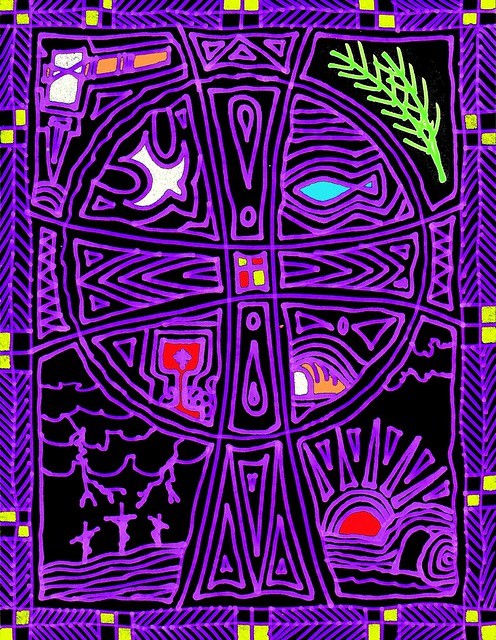 We gather for a Worship Service on this Third Sunday in Lent on March 12th, 2023 – in-person at the Chapel (2700 W 14th Street) and via the Zoom platform (online and by phone) at 11:00 A.M.
Daylight Saving Time begins this Sunday, March 12th at 2 A.M. Remember to Spring Ahead – Turn your clocks forward one hour before you go to bed Saturday night. Don't forget to adjust your clocks forward so you don't miss the worship service Sunday morning. Daylight saving time, also referred to as daylight savings time or daylight time, or summer time, is the practice of advancing clocks during warmer months so that darkness falls at a later clock time. Date: Sun, Mar 12, 2023 – Sun, Nov 5, 2023.
To join us at the Chapel, buzz Zion Church (Bob Bucklew) from the Directory at the front of the 2700 Building on the campus of San Sofia apartments or enter from the accessible ramp from the rear parking lot. When you arrive, call Bob at 216-375-5323 to open the parking lot gate.
The Sunday Bulletin is attached in PDF format. You may use it to follow along with the service on Zoom or you may use it as a devotional during the week.
ZION'S ADMINISTRATIVE ASSISTANT, BEVERLY WURM
Beverly will be keeping some limited Office Hours at church/home. The days and hours are:
Monday – 9am – 1pm
Wednesday – 10am – 2pm
Thursday – 9am – 1pm
Beverly can be reached at: [email protected] or by phone at: 216-273-7561 (church) or 216-310-6810 (mobile).
Our new website address is: zionchurchtremont.org
Check out our website and Facebook page for updates and news.
The Scripture Readings for March 12th, 2023:
First Reading: Exodus 17:1-7
As soon as the Israelites were away from the oppression of Pharaoh, they complained in the wilderness. In this reading, the people can find no water to drink, and they quarrel with Moses. Moses in turn complains to God, wanting to know what to do with the people who want to stone him for their troubles. God instructs Moses to go before the people with some of the elders to the rock at Horeb, where God would stand, and strike the rock with the staff that God gave him in Egypt. Moses obeys God, and water comes out of the rock where God stood, a reminder that God was with them, even though the people questioned it.
Psalm Response: Psalm 95
Psalm 95 is a song of praise to God the Creator, calling the people into worship and celebration. God has made the whole world as well as us, and as the Great Shepherd we are the sheep of God's hand. The second half of the psalm shifts to words of warning for those who do not listen to God, and for those who test God, as the Israelites did in the wilderness. Because they quarreled and tested God, they wandered for forty years and did not enter the land promised them. For those who do trust in God, the first half of the psalm reminds the listener of God's faithfulness and abundance.
Second Reading: Romans 5:1-11
The Epistle readings continue in the letter to the Romans, this time in chapter 5. Because believers are justified by faith, they share in the glory of God through Jesus Christ. Even though they may suffer, in their suffering they will still experience the hope of God because they know God's love through Jesus. Even though not all knew Christ, Christ died for all. There is no one who cannot know God's love through Jesus Christ. Paul views Christ's death as a sacrifice that saves everyone, regardless of being under the law or not, and Christ's death reconciles everyone to God. It is not the believer's works, but rather one's faith in Christ that matters.
Gospel Reading: John 4:5-42
This Gospel Reading contains the story of the Samaritan woman at the well. All sorts of cultural boundaries are crossed in this story: Jesus and the disciples are in a Samaritan village, and Jews did not like Samaritans and vice versa. Jesus was alone and a Samaritan woman came to draw water from the well, and Jesus spoke with her—a taboo to speak to a woman alone, especially an unmarried woman and a Samaritan at that! But through the woman's skepticism and later revelation by Jesus that she's been married five times and is now living with a man who isn't her husband, Jesus still chooses to speak to her. Perhaps because as someone who has faced marginalization by the dominant culture as well as by gender and by her marital status, she is able to accept Jesus as the Messiah because he came, even for her. Jesus's disciples are taken aback by his talking to this Samaritan woman alone, and do not understand his message is to bring spiritual food and water to the world, not just for themselves. The woman meanwhile goes into the village and tells everyone about Jesus, and many come to believe through her word, but others come to believe in their encounter with Christ.
The Sermon/Reflection is "In the Most Unlikely Places, Through the Most Unexpected Voices" by the Rev. Scott Rosenstein and is based on John 4:5-42.
Please join us on this First Sunday in Lent, to give thanks to God, in-person in the Chapel, or via Zoom!
Pastor Scott
216-273-7561 – church
216.577.1514 – mobile
Bulletin Cover Image:
Lenten Cross depicting the Life of Christ
Unique crayon and digital worship art
by Stushie, a Scottish pastor, ministering in East Tennessee
Stushie Art: Stushieart.com