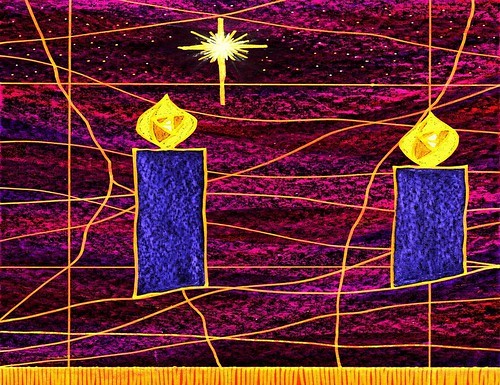 On Sunday, December 4th, 2022, we gather for a Worship Service in-person at the Chapel (2700 W 14th Street) and via the Zoom platform (online and by phone) at 11:00 A.M.
To join us at the Chapel, buzz Zion Church (Bob Bucklew) from the Directory at the front of the 2700 Building on the campus of San Sofia apartments or enter from the accessible ramp from the rear parking lot. When you arrive, call Bob at 216-375-5323 to open the parking lot gate.
Season of Advent and Advent Wreath Candle Lighting
Advent is the season of preparation for Christmas, but it is an active watching and waiting for the arrival of Christ in our world and in our lives in a new way. We read these passages pointing to the day of judgment and Christ's return to remind us that we are still actively waiting, alert and awake. Because of the Nativity story, that Christ came to us in a completely unexpected way as a newborn child, so in these days we must be ready for Christ to enter our world, our lives, and our hearts in an unexpected way. How do we live faithfully in times when our faith might be tested? When the world isn't as we hoped it would be? Where can we find signs of God's faithfulness in our lives, in the world around us?
Advent means "coming." It is a time of longing, watching, and praying for God's healing, transformative presence to be ever more vibrantly present in the world. In this sense, Advent is a season in which we focus on that key phrase in the Lord's Prayer, "thy kingdom come." As Christians, the good news we strive to live by and declare is that love is stronger than hate, peace more enduring than war, hope more powerful than despair — and the light of God's love will dispel forever the shadows of shame cast by violence, suffering, sorrow, and contempt.
To help proclaim that God's new world is at hand, we are sharing four candle lighting litanies for personal, family-based, or congregational use during the holy season of Advent. The Candle-lighting liturgy for the Advent wreath ties into the worship theme, "Stand as a Signal."
Isaiah is our anchor text for this Advent worship series. But Psalms gives us the mood, theme, or even soul. "How I rejoiced when they said to me, 'Let us go to "stand as a signal."
Feel free to use these litanies in whatever ways you see fit this Advent — proclaiming all the while – Stand as A Signal
Advent Sundays with Zion Church
Sunday, November 27th, 11:00am – First Sunday of Advent

Sunday, December 4th, 11:00am – Second Sunday of Advent – Holy Communion

Sunday, December 11th, 11:00 am – Third Sunday of Advent

Sunday, December 18th, 11:00am – Fourth Sunday of Advent

Saturday, December 24th, 6:30pm – Christmas Eve
OUR ADVENT DEVOTIONAL – E.E. CUMMINGS AND THE JOYFUL POETRY OF ADVENT
The word "Advent" means "arrival" or "coming." It's a four-week season of waiting and preparing for Jesus to be born, watching and listening for God coming into the world even now. For God is love, and love, as E.E. Cummings put it, "is the voice under all silences."
Poetry can help tune our ears and eyes so we can listen, and watch, and wait. Poems can push us to think new thoughts and feel new feelings, to hear new songs we might otherwise miss. In this Advent devotional, we let scripture and Cumming's poetry be our guides, together pointing us to-ward weekly practices that can deepen and enrich our senses of the season – a perfect way to pre-pare for the rejoicing of Christmas day.
Copies of the Advent Devotional along with a Supplementary Booklet of the Poems and Artwork of E.E. Cummings – and a set of four Advent candles – are available through Zion Church – a gift for you from Pastor Scott and Bob Bucklew.
Holiday Food Drive for Our Neighbors in Need in Tremont/Duck Island/Irishtown Bend
We're invited to participate in a Holiday Food Drive for neighbors in need in the Tremont, Duck Island, and Irishtown Bend neighborhoods. The food drive is an annual campaign sponsored by Tremont West Development Corp involving residents, businesses, and churches in these neighborhoods. Nine local block clubs are also participating this year: Auburn-Lincoln Park, Central Tremont, Duck Island, Holmden-Buhrer-Rowley/Mentor-Castle-Clark, Irishtown Bend, Metro North, South of Jefferson and North of Literary – as well as Tremont West staff.
This year's food drive will support the fine work of these Hunger Ministries/Food Pantries:
St. Augustine Hunger Center hot meals program (operated by Catholic Charities)
St. Augustine Parish food pantry ministry (operated by Parish Church)
Pilgrim Congregational UCC food pantry
Immanuel Lutheran food pantry
Westside Catholic Center
St. Malachi Parish Back Door Ministry
Iglesia Nueva Vida food pantry
Mega Church Resource Center food pantry
Scranton Road Bible Church food pantry
Hunger Action Network of NE Ohio
Greater Cleveland Food Bank.
Here's How to Donate and the Guidelines for this Season's Holiday Food Drive:
Items Needed: Canned goods, nonperishable boxed food items, paper products (toilet paper, paper towels, napkins)
Cash/Checks: You may also donate by cash/check if you prefer. Checks must be made out to the food pantry or pantries of your choice – for verification purposes, checks must first be mailed to the Tremont West offices (Re: Food Drive, 2406 Professor, Cleveland, OH 44113) – who will deliver them to the respective food pantries.
Donate online: https://givebutter.com/holidayfooddrive – How to give: Click donate, select an amount to give, choose your block club (Holmden-Buhrer-Rowley/Mentor-Castle-Clark), choose which food pantry you want your donation to be sent to, and watch the food drive unfold! Donations may be made by Credit/Debit Card, PayPal, or Venmo.
Drop-off point for canned goods: Tremont West Development Corp offices' side porches (2406 Professor) or Zion Church/San Sofia Apartments.
Deadlines: For delivery before the holidays, items must be turned in by Friday, December 16th. A second delivery will be made in mid-January, 2023 for items donated after the 16th. (NOTE: The Tremont West offices are closed December 23rd – January 2nd and will reopen on Tuesday, January 3rd, 2023). Deliveries during that time can only be made to Zion Church and not to the Tremont West office.
Most important of all is the goal: lending a helping hand to neighbors – families and children – in need in Tremont/Duck Island/Irishtown Bend – and providing help to support the outstanding work of eleven local food pantries-ministries who get nutritious food to children and families all year long!
The bulletin is attached. You may use it to follow along with us in the worship service or as a Devotional this week.
The Scripture Readings are:
Isaiah 11:1-10
For the second Sunday in Advent, the Hebrew Scriptures readings continue a series in the book of Isaiah. The prophet Isaiah, having witnessed the corruption of rulers that led to the northern kingdom of Israel's demise and the southern kingdom of Judah's own troubles, prophesies a new ruler who will come and lead as David led. While Isaiah was hoping for the new ruler Hezekiah in his time, the prophet's hope is for all future leaders, that they would judge with righteousness and equity those who are poor and those in need. That a future ruler would not look to what benefited them but to the wisdom of God, and to seek God's guidance in how they led. When the leader of the people seeks God, peace comes over the land, for there is no more competition with each other—it is only how they can best live according to God's ways. The wolf will live with the lamb, and the leopard live with the goat—these symbols of peace in creation are representative of God's abundant love. There is enough for all when we look to God's ways. Other nations will look to Judah, to their ruler, and be drawn to them because of what God has done for them.
Psalm 72:1-7, 18-19
Psalm 72 is a blessing upon the coronation of a new ruler. The psalmist prays for God's blessings for the new ruler, that God would grant them wisdom to rule with justice. The psalmist prays that the new ruler would remember those who are poor and those in need, and prays that the ruler would defend the most vulnerable, and that the ruler be blessed with long life and a reign with abundance and peace. The psalmist concludes by blessing God, for it is God alone who can accomplish peace and justice.
Romans 15:4-13
The Epistle reading continues with these verses in Romans 15. The apostle Paul writes that the scriptures written before were to give us hope in the here and now, by God's steadfastness and encouragement through the ancestors of our faith. Paul gives instructions to the church in Rome to welcome one another—indeed, throughout the letter Paul has encouraged the Jewish followers to welcome in the new Gentile converts. According to Paul's explanation, Jesus was Jewish to confirm the promises made through the ancestors of the faith, but Paul also quotes the scriptures where it lifts up the Gentiles as people who also praise God. Finally, Paul quotes the prophet Isaiah, linking Jesus as the one who will come from the root of Jesse. It is important for us to remember that while Paul and other early Christians made this connection to Isaiah and Jeremiah, there are other interpretations among Jews about the Messiah, from before and after Jesus's time.
Matthew 13:1-12
The Gospel turns to John the Baptizer in Matthew 3. The writers of all four Gospel accounts link John the Baptizer to Second Isaiah, where in 40:3 the prophet declares that a voice cries out from the wilderness. Second Isaiah was writing of the time when the people returned from exile in Babylon, around 520 B.C.E. However, the Gospel writers identify this as John centuries later, who came from the wilderness, proclaiming a baptism of repentance for the forgiveness of sins. Some scholars believe John may have been part of the Essenes, a group of Jews who gathered near the Dead Sea and prepared for the Day of the Lord to come. They had similar practices of not eating meat, and the Jewish practice of the mikveh, a ritual cleansing in water immersion, was practiced more rigorously by the Essenes. John came from the wilderness and proclaimed this baptism, and people from all along the Jordan came to him. However, when some of the Sadducees and Pharisees, two other different Jewish groups, came to be baptized, John warned them not to rely on their identity or ancestry, but that they must go through the inner transformation, to bear fruit worthy of repentance. John declared that one was coming after him who was more powerful, one whose axe lay at the foot of the tree and whose winnowing fork was on the threshing floor. The one coming after John would work on them and they might not like it, for anything bad would be cut off, anything chaff would be torn from the wheat and would be burned. In other words, the one coming after John was coming to purify and cleanse. The masks any of us wear for the world, the things we hide behind—our religious identity, our lineage, wealth, power—whatever it is, it will not hold up to the truth of God—it will be torn away. We can't hide who we are from God. Too often we want to hide our faults and shortcomings. But if we allow God to work in us, God can help us bear good fruit.
The Sermon/Reflection is "Where Are You Located This Advent?" by the Rev. Scott Rosenstein, based on the reading of Matthew 13:1-12.
Our Worship Service is also available through the Zoom platform on Sunday, December 4th, 2022, at 11:00 A.M. (Eastern Time).
Please join us to give thanks to God this Sunday, in-person in the Chapel, or via Zoom!
Pastor Scott
216-273-7561 – church (new phone number)
216.577.1514 – mobile
Bulletin Cover Image:
Advent 2 Candle Drawing, Stushie Art
https://stushieart.com
Church bulletin covers and other art by artist Stushie.Unique crayon and digital worship
A Scottish pastor, mistering in East Tennessee