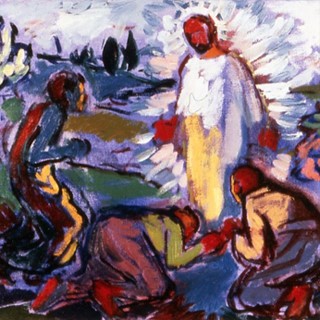 On Sunday, June 26th, 2022, we gather for a Worship Service in-person at the Chapel (2700 W 14th Street) and via the Zoom platform (online and by phone) at 11:00 A.M.
To join us at the Chapel, buzz Zion Church (Bob Bucklew) from the Directory at the front of the 2700 Building on the campus of San Sofia Apartments or enter from the accessible ramp from the rear parking lot. When you arrive, call Bob at 216-375-5323 to open the parking lot gate.
PLEASE NOTE: Because of the rise in COVID cases, we again request the wearing of a face mask regardless of vaccination and booster status while in the Chapel common areas.
ADMINISTRATIVE ASSISTANT, BEVERLY WURM
Beverly began a part-time position… She will be keeping some limited Office Hours at church/home. The days and hours are:
Monday – 9am – 1pm
Wednesday – 11am – 4pm
Thursday – 9am – 1pm
Beverly can be reached at: [email protected] or by phone at: 216-273-7561 (church) or 216-310-6810 (mobile).
The bulletin is attached. You may use it to follow along with us in the worship service or as a Devotional this week.
The Scripture Readings are:
First Reading: 1 Kings 19:15-16, 19-21 – This reading picks up right where the first reading last week left off, after the prophet Elijah's epic burnout. Elijah was exhausted from Ahab and Jezebel's oppression, and in this section, God shares the succession plan with Elijah: he is to go on and anoint a new king of Aram, a new king of Israel, and a new prophet, Elisha, to take his place.
Psalm Response: Psalm 16 – the Psalm is paired with the 1 Kings 19 reading, a song of faith in God even in difficult times. God is the one who gives counsel, whose presence is steadfast.
Second Reading: Galatians 5:1, 13-25 – the apostle Paul writes of the freedom in Christ to a community still dividing on historic cultural lines. Paul writes of living by the Spirit as living in a way that lives out the commandments, as opposed to a literal legal understanding that Paul argued against. However, Paul is also concerned with those who would then toss out the law—instead, the law is summed up by Jesus as "love your neighbor as yourself." The law is lived out and is known by the fruits of the Spirit, and there is no law against living in kindness, gentleness, self-control, etc. When one lives by the Spirit they are guided by the Spirit and live as Christ lived.
Gospel Reading: Luke 9:51-62 – The Gospel shifts as Jesus sets his path toward Jerusalem, and these verses focus on following Jesus in two parts. In verses 51-56, the disciples are with Jesus visiting various villages, and they visit a Samaritan village but are not welcomed by them. James and John, the sons of Zebedee, asked Jesus if they could call down fire from heaven to consume the Samaritan village. But Jesus rebukes them. Following Jesus is not about power and authority over others: it is about sharing the power and authority of Christ in changing lives. In verses 57-62, Jesus encounters others on the road who want to follow Jesus, but don't understand what discipleship is, either. These people want to follow Jesus, but something is holding them back. If one wants to follow Jesus, they cannot allow anything to hold them back. Following Jesus is about changed lives—however, the inner transformation Jesus offers is not something everyone desires.
The Sermon/Reflection is "A Call to Urgency and Passion" by the Rev. Scott Rosenstein based on Luke 9:51-62 – a a call to discipleship and changed lives.
Please join us for Lunch, Coffee, and Discussion of an Exciting Possible Opportunity for the Church, following worship today. Thank you to Bob Bucklew for the lunch today.
Pastor Scott
216.273.7561 – church (new phone number)
216.577.1514 (mobile)
Bulletin Cover Image
"The Cost of Discipleship," 6/9/19, Artist: Unknown
Trinity Presbyterian Church, NY
https://www.trinitychurchny.com/sermons/the-cost-of-discipleship/